This cat appears to be a long way from home. Catching  the rats is not the same as cuddling a lion, pursuing a zebra, or teasing an elephant by jumping up on its tail.
Every person who has a cat, knows that their pet will do anything it wishes, thus seeing a brave domestic cat strolling about the wildlife sanctuary and not fearing to contact with large predators may not come as a surprise.
However, if you believe the gentle cat was in risk from larger cats, you are mistaken. Photographer George Logan and digital retoucher Tony Swinney created the amusing images for a Whiskas commercial campaign.
On this image The king of the jungle snuggle up with a domestic cat – or does he? In this Whiskas ad, there are some digital illusions at work.
In another image tabby cat appears to be confronting a herd of zebras, far from home.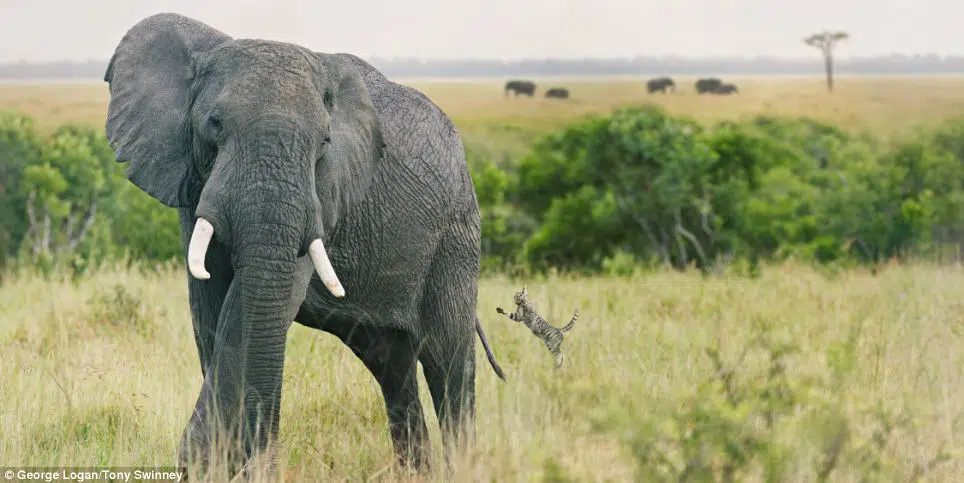 Swoop! Photographer George Logan and digital retoucher Tony Swinney created the illusion that this tabby had discovered a new toy in the tail of an elephant.
In fact, these amazing photos were taken in Africa's Shamwari Game Reserve, and then they added cat in pictures.
Big Cat, Small Cat is Whiskas' campaign, which encourages pet owners to feed their pets' needs with food.
From exploring to playing with its prey, domestic cats exhibit predatory behavior in their bigger interactions.
The beautiful photographs illustrate that, despite their enormous size differences, the lions, leopards, and cats are quite similar and have a close familial relationship.
The Born Free Foundation, which works for animal protection and assisted Whiskas in taking photographs, supports the Shamwari Game Reserve, which opened in 1992 near Port Elizabeth.
The footage with the wild animals were captured with the aid of the Born Free Foundation in Shamwari, South Africa.
The adventurous cat, photographed for Whiskas' 'Feed your cat's instincts' promotion, appears to be braving a leopard's fury.
This cat appears to be very content to be chasing down a zebra, thanks to digital magic.
It's a fearless critter who takes on a hippos waterhole.
In this ad for Whiskas, the brave cat will also be pursuing gazelles.